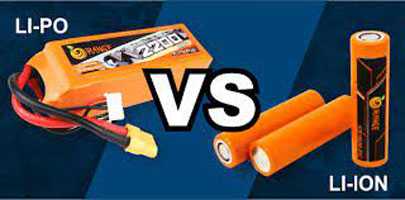 Lithium ion battery
Lithium-ion battery technology was developed in 1912 but got popular in 1990. A lithium ion battery is a relatively heavier weight as compared to lithium-polymer battery. It has a higher energy density than other rechargeable batteries and less expensive than lithium polymer. They are essentially a group of very rigid electricity-generating
compartments, which consists of three pieces: a positive electrode; a negative electrode; and an electrolyte, or liquid chemical compound between them. The most lithium-ion battery also includes an electronic controller, which regulates power and discharge flows so our battery doesn't overheat or explode. The charging duration of Lithium ion battery is relatively longer as compared to lithium-polymer batteries. It is mostly used in power backups/UPS, Mobile, Laptops, consumer electronic goods. And also used in Electric mobility and Energy Storage Systems.
Lithium-polymer battery
Lithium-polymer battery has lightweight and improved safety than Lithium ion batteries. However, it is slightly expensive i.e 30% average as compared to lithium ion. Also, the energy density is quite less. Li-Po technology uses one of three forms: a dry solid, which was largely phased out during the prototype years of lithium polymer batteries; a porous chemical compound; or, a gel-like electrolyte. The most popular among these is the last one, which is the type of battery we will find in newer laptops, computers, and electric cars. Lithium-polymer batteries are generally robust and flexible, particularly when it comes to size and shape. They have an extremely low profile and have a lower chance of suffering from leaking electrolytes. But they are extensively more costly to manufacture and they do not have the same energy density nor lifespan as a lithium-ion. It is Mostly used in radio controller equipment, aircraft, Mobile, laptops, electronic products, Electrical vehicles. etc.