As the name suggests MQ2 is a popular gas sensor in the MQ sensor series. It is a Metal Oxide Semiconductor (MOS) type Gas Sensor, also known as a Chemiresistors because detection is based on the change in resistance of the sensing material when the Gas comes into contact with it. Gas concentrations can be measured using a simple voltage divider network.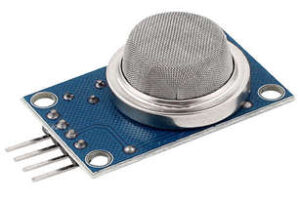 MQ2 Gas Sensor is a Metal Oxide Semiconductor (MOS) type Gas Sensor that detects gases such as methane, butane, LPG, smoke, and others.
Working of MQ2 Gas Sensor
When high-temperature tin dioxide (semiconductor particles) is heated in air, oxygen is adsorbed on the surface. Donor electrons in tin dioxide are attracted to oxygen adsorbed on the surface of the sensing material in clean air. This prevents the flow of electric current.
The surface density of adsorbed oxygen decreases in the presence of reducing gases as it reacts with the reducing gases. After that, electrons are released into the tin dioxide, allowing current to freely flow through the sensor.
The MQ-2 gas sensor's sensitive component is SnO2, which has a reduced conductivity in clean air. The conductivity of the sensor increases as the concentration of the target flammable gas rises.
Sensitivity of this sensor is not fixed it can be adjusted by rotating the potentiometer.
Applications of MQ2 Gas Sensor
It is used in domestic gas leakage detectors.
It is utilized in a variety of applications, including breath analyzers, smoke detectors, fire detection systems, and air quality monitoring systems.
It is also used in Industrial Combustible gas detectors.
It can be used as a portable gas detector.