Technically referred to as an MQ3 sensor, the alcohol sensor finds ethanol in the air. When a drunk individual breaths close to an alcohol sensor, the sensor detects the ethanol in his breath and outputs information dependent on the amount of alcohol in his breath. More LEDs would light up if the alcohol percentage was higher.
The electrochemical gas sensors of the MQ series use a small heater within and can detect a variety of gases when used at ambient temperature. A Sno2 with a lesser conductivity of clean air is the MQ135 alcohol sensor.
The conductivity of the sensor increases more and more when the target explosive gas concentration rises when it is present. It transforms the charge of conductivity to the corresponding output signal of gas concentration by employing straightforward electronic circuits.
The MQ135 gas sensor is highly sensitive to harmful gases such as ammonia, hydrogen sulfide, benzene steam, and smoke. It is inexpensive and appropriate for a variety of uses. Alcohol sensors come in a variety of forms, including MQ-2, MQ-3, MQ-4, MQ-5, and MQ-6.
It is a reasonably priced semiconductor sensor that can find alcohol gases at concentrations between 0.05 mg/L and 10 mg/L. SnO2, a substance whose conductivity is lower in clean air, is the sensitive component used in this sensor.
As the concentration of alcohol gases rises, so does its conductivity. It is quite sensitive to alcohol and can withstand disturbances from smoke, mist, and gasoline well. This module offers analog and digital outputs. Microcontrollers, Arduino boards, Raspberry Pi, etc. may all be easily interfaced with the MQ3 alcohol sensor module.
Similar to a standard breathalyzer, this alcohol sensor can detect the presence of alcohol on your breath. It responds quickly and with high sensitivity.
Based on the sensor's analog resistive output Amount of alcohol consumed. All that is required for the drive circuit is a single resistor. A 0-3.3V ADC could serve as a basic interface.
What is an Alcohol Sensor?
An analog voltage is the output signal from an alcohol sensor, which detects the presence of alcohol gas in the atmosphere. The sensor can turn on with a power supply of less than 150 Ma to 5V and temperatures between -10 and 50° C. The sensing range, which is suited for breathalyzers, is 0.04 mg/L to 4 mg/L.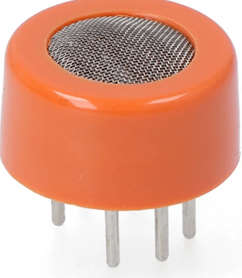 MQ-135 Gas Sensor
The MQ-135 Gas Sensor can identify dangerous gases and smoke, including ammonia (NH3), sulfur (S), benzene (C6H6), and CO2. This sensor, like the others in the MQ series of gas sensors, has a pin for both digital and analog output. The digital pin turns high when the amount of these gases in the air exceeds a predetermined threshold.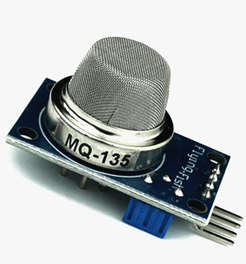 Pin Configuration Of Alcohol Sensor
The MQ-3 alcohol gas sensor has a total of six pins, three of which are A, H, and B. Of the six pins total, we only use four. The two pins marked A and H are used for heating, whereas the other two pins are used for power and ground. Inside the sensor is a heating system consisting of tin dioxide and aluminum oxide.
It serves as a heat sensor since it has heat coils that can generate heat. The pin design and configuration of the MQ-3 alcohol sensor are shown in the diagram below.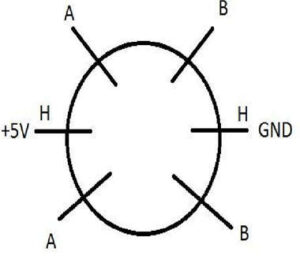 Working Principle And Circuit Diagram
Tin dioxide (SnO2), a perspective layer inside aluminum oxide microtubes (measuring electrodes), and a heating element inside a tubular case make up the MQ-135 alcohol sensor. A stainless steel net surrounds the sensor's end face, and the connecting terminals are located in the rear.
Breath-borne ethanol is converted into acetic acid as it passes over the heating element. The resistance falls as an ethyl alcohol cascade occurs on the tin dioxide sensor layer.
The resistance variation is changed into an appropriate voltage fluctuation by employing the external load resistance. The diagram and configuration of connections for an MQ 135 alcohol are shown below.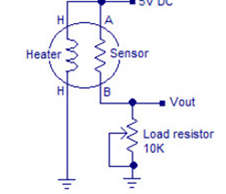 Applications Of MQ 135 Gas Sensor
Air quality monitor
Detection of harmful gases
Domestic air pollution detection
Industrial pollution detection
Portable air pollution detection