Munich, Germany – 29 April 2021 – Infineon Technologies AG (FSE: IFX / OTCQX: IFNNY) has upgraded the EasyDUAL™ CoolSiC™ MOSFET modules with a new aluminum nitride (AIN) ceramic. The devices come in half-bridge configuration with an on-state resistance (R DS(on)) of 11 mΩ in an EasyDUAL 1B package and 6 mΩ in an EasyDUAL 2B package. With high-performance ceramic, the 1200 V devices are suitable for high-power density applications including solar systems, uninterruptible power supplies, auxiliary inverters, energy storage systems and electric vehicle chargers.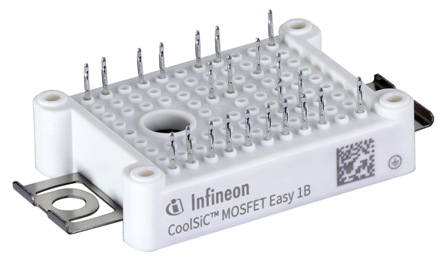 The EasyDUAL modules FF11MR12W1M1_B70 and FF6MR12W2M1_B70 are equipped with the latest CoolSiC MOSFET technology that features superior gate-oxide reliability. With the improved thermal conductivity of the DCB material, the thermal resistance to the heat sink (R thJH) can be lowered by up to 40 percent. Combined with the CoolSiC Easy modules, the new AIN ceramic enables an increase of the output power or reduces the junction temperatures. This can lead to an improved lifespan of the system.
Availability
The EasyDUAL CoolSiC MOSFET modules FF11MR12W1M1_B70 and FF6MR12W2M1_B70 are now available. More information is available at www.infineon.com/easy. The EasyDUAL will be showcased at Infineon's Virtual Power Conference, which complements "PCIM Europe digital days."
Infineon's Virtual Power Conference 2021
Experience the difference in Power – Power semiconductors are the key to an energy-efficient world. New technologies such as silicon carbide (SiC) and gallium nitride (GaN) enable higher power efficiency, smaller form factors and lower weight. Silicon also plays a major role in many designs. Energy efficiency is the focus of the "Virtual Power Conference," which will be available 'live' from May 4 to 6, 2021. As a leading supplier of power semiconductors, Infineon will use the exclusive digital platform to present technologies and systems that generate energy more efficiently, transmit and distribute with lower losses, and showcase a wide range of energy-efficient applications. Focus areas comprise the verticals Industry, Transport & e-Mobility and Consumer. The online platform opens its doors starting 4 May 2021.