Accelerates development of secure and scalable IoT solutions
Tributech's OEM module integrates nRF9160 SiP providing LTE-M/NB-IoT connectivity and high-end data security
A cellular IoT module integrating Nordic Semiconductor's nRF9160 low power System-in-Package (SiP) with integrated LTE-M/NB-IoT modem and GNSS, has been launched by Austrian IoT data asset management technology company, Tributech Solutions. The 'Tributech OEM module' is designed to simplify and accelerate the development of scalable and application-specific IoT devices with LTE-M or NB-IoT wireless connectivity.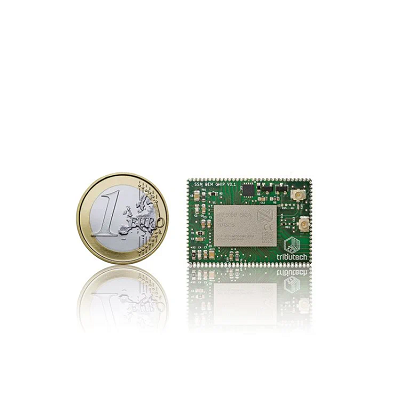 Off-the-shelf solution
Positioned between an off-the-shelf solution and a do-it-yourself platform, the miniaturized 32 by 22 by 3 mm Tributech OEM module is packaged as a System-on-Module (SoM) that provides all necessary core functionalities while also managing telemetry data, configurations, updates, provisioning, and security. This allows developers of medium-to-large scale applications to design IoT devices that are optimized in terms of interfaces, form factor and costs for their use case, without the need to take care of all the complexity of a connectivity and data management platform. The product is also offered in an Arduino Shield variant for prototyping. The shield can be used with all popular hardware development platforms including Arduino Uno, STM32 Nucelo, and Infineon XMC Relax Kit.
The decision to select the nRF9160 SiP was a combination of its feature set and price/performance ratio, this combination allowed us to build a competitive foundation for large-scale IoT applications

Patrick Lamplmair, Tributech Solutions
The Tributech OEM module is fully integrated with Tributech's 'DataSpace Kit' (DSK), an enterprise solution for creating 'dataspaces' and managing connected devices offering features including digital twin-based configuration and data management, high-end hardware security, blockchain-based data verification and audits, as well as built-in data sharing. The DSK provides all the building blocks to create dataspaces where data providers and data consumers can share selected data streams in a secure and trustworthy way and manage data assets through an integrated web portal. Data verification technology guarantees the origin and integrity of data across systems and solutions for traceability and sustainability, while compliance can be implemented based on data audits.
The module's LTE-M/NB-IoT connectivity and processing capabilities are provided by Nordic's nRF9160 SiP that includes a dedicated 64 MHz Arm® Cortex®-M33 application processor, 1 MB Flash and 256 KB RAM, a multimode LTE-M/NB-IoT modem with integrated RF Front End (RFFE), GNSS, and power management in a compact 10 by 16 by 1 mm package certified for global cellular IoT applications. The nRF9160 SiP's LTE modem supports both SIM and eSIM, offers 700 to 2200 MHz LTE band support, 23 dBm output power, -108 dBm RX sensitivity in LTE-M, and -114 dBm RX sensitivity in NB-IoT mode, and single pin 50Ω antenna- and UICC-interfaces.
Class leading power consumption
The nRF9160 SiP provides class leading power consumption and PSM and eDRX power-saving enabling it to sleep for longer periods of time. For both LTE-M and NB-IoT the PSM floor current is as low as 2.7 µA, and with an eDRX interval of 655 s the average current is 6 µA for LTE-M and 9 µA for NB-IoT. Security features include Arm TrustZone® for trusted execution, and Arm CryptoCell™ 310 for application layer security. Related products include the nRF9160 DK, a precertified single board development kit and the nRF Connect SDK (Software Development Kit) which includes application layer protocols, application examples, and LTE modem firmware offered as precertified and precompiled downloads.
"The decision to select the nRF9160 SiP was a combination of its feature set and price/performance ratio, this combination allowed us to build a competitive foundation for large-scale IoT applications," says Patrick Lamplmair, CTO of Tributech Solutions. "The idea for our product required several specific features: LTE-M / NB-IoT connectivity including certification for global operation, a dedicated application processor within the same SiP, low power consumption to enable battery-powered applications, Arm Trust Zone for security features, and a broad range of interfaces to provide flexibility for further use cases. The built-in GNSS was a nice added feature that is also suitable for many target applications."