OPUM Technologies' Digital Knee uses Nordic nRF52840 SoC for core processing and sensor data transfer via Bluetooth LE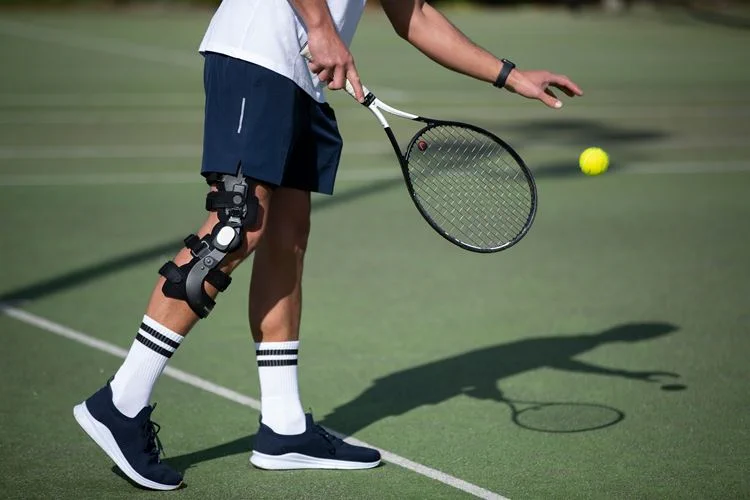 New Zealand-based OPUM Technologies has developed an orthopaedic remote patient/therapeutic monitoring solution and digital rehabilitation platform for joint injury recovery and chronic conditions.
The core element of the turnkey solution—which also comprises software, electronic health record integration, billing, and first-line clinical monitoring for orthopaedic practices—is the 'Digital Knee®' wireless goniometer, a Nordic Semiconductor nRF52840 SoC-powered sensor device that continuously measures the available range of motion at the joint.
Machine learning-powered
The goniometer—an instrument for the precise measurement of angles—requires no calibration and is accurate to less than one degree. Moreover, the solution integrates advanced clinical data analytics including machine learning (ML)-powered activity and posture recognition and tracking.
Digital Knee seamlessly 'clips-on' to wearables including therapeutic braces for post-surgery and offloading for knee osteoarthritis. Alternatively it can be used as a standalone goniometer when bracing is not needed, such as post knee replacement.
The processing capability and memory capacity enabled a design which did not require a [separate] dedicated application processor

Paul Mallinson, OPUM Technologies
"Digital Knee's extendable goniometer arm design and strategic sensor location, anatomically aligned on the affected limb, ensure the measurements are less susceptible than patch sensors to 'noisy data' and errors caused by skin movements – especially in patients with excess soft tissue," explains Paul Mallinson, CTO, OPUM Technologies.
"The accuracy, reliability, and usability of Digital Knee assessments have been validated in peer-reviewed papers. For example, ACL patients used the device for six weeks post-surgery with maximum group knee flexion one degree different between an in-clinic goniometer and a remote Digital Knee assessment," adds Dr. Freeborn Mondello, Clinical Director, OPUM Technologies.
The integrated Nordic nRF52840 SoC-based Raytac MDBT50Q-1MV2 module acts as the main application processor for the Digital Knee sensor, performing all data capture activities and running a number of proprietary algorithms and ML classifications. The sensor is overseen by the nRF52840 SoC's powerful 64 MHz, 32-bit Arm® Cortex® M4 processor with floating point unit (FPU).
Using the Bluetooth® LE connectivity provided by the nRF52840 SoC, the data is sent from the sensor to a user's smartphone, from where the associated 'my Digital Knee' iOS/Android app provides 'real-time' insights for patients performing their prescribed activities and assessments. Through the app, patients can also build a 'digital twin' of their knee to deliver a continuous holistic picture of knee health, track their recovery journey, receive and track prescribed therapy/surgical plans, and share data and compliance with their care teams.
In addition, the data can be relayed to the Cloud for clinical teams to conduct deeper analysis through a web-based portal. Notifications can also update clinicians on their patients' progress and help them perform assessments to inform clinical decision-making.
Wireless sensor configuration
The integration of the nRF52840 SoC enables wireless sensor configuration and re-configuration based on the patient's specific care program, as well as seamless remote sensor updates using the SoC's over-the-air device firmware update (OTA-DFU) functionality. Digital Knee uses a 300mAH Li-Po pouch battery allowing the device to achieve several days of typical use between recharge, thanks in part to the ultra low power characteristics of the nRF52840 SoC.
"The software architecture of the pre-certified nRF52840 SoC-based Raytac module greatly reduced development time and allowed our team to focus on implementing core functionality rather than expending significant effort on connectivity," says Mallinson. "The processing capability and memory capacity enabled a design which did not require a [separate] dedicated application processor, which reduces power, saves on cost, and simplifies the design."