Encourage student's interest in embedded systems & semiconductor design, Linux development environment, System Simulators, Advanced Sensor, Smart algorithms, AI and ML technologies
Ignite the spark of entrepreneurship in the minds of young graduates
1000+ platform registration, 621 registrations for Design Challenge, 750+ webinar training attendees and 450+ active participation on Discord for project brainstorming from 87 University students from 24 states across India
3 Winners along with 6 Special Theme Winners were selected from 17 finalists consisting of 57 students at the Grand Finale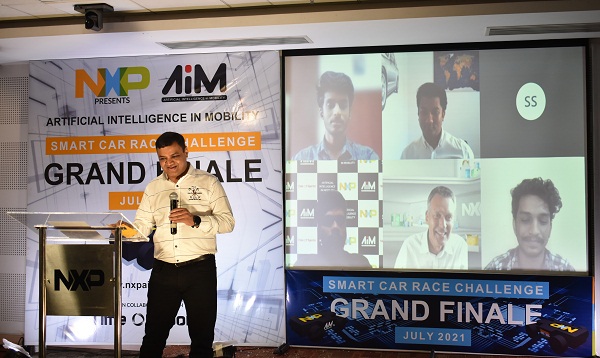 India, July 26th, 2021: NXP India, one of the largest design centers for NXP Semiconductors N.V. (NASDAQ: NXPI), organized the 'Smart Car Race Design Challenge 2021' in association with TOS (Time of Sport), an India-based University Engagement Group & India Licensee for F1 Car Races in Schools. The Smart Car Race Design Challenge is the first competition organized under NXP's flagship platform 'Artificial Intelligence In Mobility' (AIM), launched exclusively for Indian university engineering students in January 2021. The AIM platform is created to build a collaborative connectivity with Academia, promote R&D culture among students, develop problem-solving attitude, make innovators of tomorrow and create career opportunities for the young cohort and make them industry ready in the field of Next Gen Smart Embedded System Design, through real life future system design challenges.
Smart Car Race Design Challenge is the first tech competition on AIM platform focusing on the most up-to-date technologies such as AI/ML Algorithm, Sign-Recognition, Sensor, Motion Detection, Computer Vision, Image Processing etc. Students were invited to create a car prototype and race it on virtual tracks on Gazebo simulator avoiding dynamic obstacles like moving cars, walking human beings, signal for start-stop, etc.  Registrations for the challenge were invited in March 2021 and witnessed participation from 87 Universities from 24 states in India, 621 registrations for Design Challenge, 750+ webinar training attendees and 450+ active participation on Discord for project brainstorming.
After three long months of training, mentoring and various qualification rounds, 17 teams comprising of 57 students were shortlisted for the grand finale for the live race and a presentation in front of the external judges. Finalists were judged on the following major criteria-
Completion of the race in shortest time with least penalties during the course,
Technology (Sensor and Algorithm's used and system integration),
Innovation (AI/ML implementation, Coding and graphics)
Car Model designs and
Presentation (Communication skills, presentation skills, and teamwork),
The 1st, 2nd and 3rd prize winners stand to win cash prize of INR 50,000, INR 30,000 and INR 20,000 respectively and 6 Special Theme Winners will take home INR 10,000 each. Other benefits for the winners include an internship opportunity with NXP, meet & learn from the industry experts and technical and career mentorship throughout graduation.
While congratulating the winners, Sanjay Gupta, Vice President and India Country Manager, NXP Semiconductors said, "It was amazing to see how young innovators have shown interest in learning the dynamics of new-age technologies like AI/ML and craft innovative prototypes. The Smart Car Race Design Challenge will open up the horizon for engineering students who are looking to explore the integration of cutting-edge technologies towards a specific application focus in the emerging smart world. The participants demonstrated tremendous team efforts and made the challenge success with the direction and training provided by team of experts from NXP."
In his address Lars Reger, Executive Vice President and Chief Technology Officer, NXP Semiconductors said "NXP has always been focused on driving innovation in collaboration with industry, academia, and society. Smart and Autonomous cars are the future of mobility and initiatives like these will help in preparing students for the automotive space. Interestingly, challenges like these will encourage innovation, imbibing skills like team management which will further open career opportunities. I hope that thousands of students in India would join us in the similar challenges in future as well and helps solve the emerging technology and application focused problems with fun and collaboration".
Yashraj Singh, Founder & CEO- Time of Sports said, "Super excited & proud to conclude the gala nationals of India's first ever challenge based on Artificial Intelligence in Mobility. The participation, the enthusiasm, the hunger to go beyond by all our talented participants has geared us up for the bigger, the better, the groundbreaking Season 2. Stay tuned."
The event was honored by some of the known Industry veterans – Dr BK Panigrahi, IIT Delhi; Prof. Neeta Pandey, DTU; Dr SS Solanki, BIT Mesra; Prof. P.V.M Rao, IIT Delhi; Ms. Clara Otero Perez, NXP Semiconductors; Mr Shashank Sharma, Jaguar Land Rover; Mr Manish Gupta, Rezo.AI and Mr. Matthias Wilkens, NXP Semiconductors were the members of the jury for the grand finale.
NXP India, the largest R&D center of NXP Semiconductors Pvt. Ltd. with over 2500 high-tech employees across India, is an employee-focused organization driving and supporting innovation from the forefront in the country. The sole purpose of events like Smart Car Race Design challenge is to encourage young people to broaden their creative abilities and establish the foundation for tomorrow, as well as to foster R&D culture and build a base for their industry-readiness. As a result, students will be better prepared for setting up their startups and explore job options in the latest state-of-the-art technologies, which will further give them a plethora of opportunities to explore and deepen their interest in engineering.