Qualcomm Continues to Lead the Development of the 5G mmWave Ecosystem to Offer the Fastest 5G Worldwide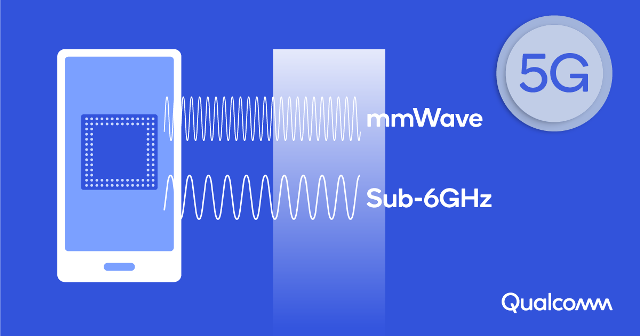 MAY 4, 2021SAN DIEGO
What's New: Qualcomm Technologies, Inc. today announced real-world test results demonstrating that 5G mmWave connectivity speeds on commercial devices is 16 times faster than 5G operating solely in sub-6 GHz frequencies. These unprecedented results were based on Ookla® Speedtest Intelligence® data* from user-initiated tests on commercial devices in the United States. 5G mmWave uses ultra-wide channels to deliver exponentially faster speeds and greater capacity compared with lower frequency 4G or 5G bands. 5G mmWave momentum continues through the world, with deployments from all major operators in the U.S. and Japan, recent deployments in Europe and South East Asia, and more coming soon in regions such as Australia and Latin America. China is also expected to deploy 5G mmWave for the Winter Olympics early next year.
Why It's Important: 5G mmWave is critical to dramatically improving the performance and advancing the variety of connected experiences in every setting. This advanced technology delivers massive bandwidth whether you're at home with 5G fixed wireless access, on-the-go in a train station streaming TV shows, at work or school with a need for enterprise-grade connectivity, or in heavily crowded venues and similar public settings.
Qualcomm Technologies made 5G mmWave technology a reality and it is building breakthrough technologies and products to ensure its availability to users. Qualcomm Technologies, along with leaders in the mobile ecosystem, began this work years ago prior to standardization efforts, then moved to interoperability tests in 2017 and 2018, and ultimately commercialized mmWave in 2019 launching multiple flagship smartphones. Last year, the Company showcased 5G mmWave speeds of over 5 Gbps.
Qualcomm Technologies is committed to making ultra-fast 5G mmWave connectivity rapidly available to a wide array of users, and have already undertaken multiple initiatives to spread the advanced technology's footprint, including:
All tiers in the current portfolio of Qualcomm® Snapdragon™ Mobile Platforms, from 8- to 4-series, are now capable of supporting 5G mmWave
100+ commercial and pre-commercial 5G mmWave devices according to GSA, including phones, PCs, mobile hotspots, customer premises equipment and modules; Virtually all powered by Snapdragon
Snapdragon-powered 5G phones, including all top flagship devices and models priced as low as $400
Qualcomm Technologies is enabling mobile operators to deliver Gigabit internet access to many communities using devices based on Qualcomm®️ 5G Fixed Wireless Access Platforms, now including extended range 5G with high power mmWave solutions
Radio access networks, such as small cells, are operating today on operator networks using Qualcomm® 5G RAN Platforms
The recently announced Snapdragon X65 Modem-RF System will further extend 5G mmWave with new capabilities such as 10 Gbps peak speeds and mmWave/sub-6 GHZ spectrum aggregation using dual connectivity for further enhanced performance.
"Our end-to-end modem to antenna solution brings together all the key 5G breakthroughs to optimize 5G connectivity using the massive bandwidth of mmWave," said Durga Malladi, senior vice president and general manager, 4G/5G, Qualcomm Technologies, Inc. "With almost every major OEM offering 5G commercial devices globally, we're playing a critical role in enabling 5G to live up to its promise of speed and power. This not only redefines the smartphone experience, but also paves the road for endless possibilities, including the further expansion of 5G into fixed wireless access, 5G private networks, compute, XR, and Industrial IoT."
Qualcomm Technologies will further showcase how 5G mmWave is delivering state of the art user experiences during the Qualcomm 5G Summit, May 19-20. For more info go to www.qualcomm.com/mmWave.