The mobile phone charger aftermarket is growing exponentially both in volume and in technological advancement. Established brands and startups are all in a race to reduce charger size, increase charging speed and to offer more features like multi-port charging. Power Integrations offers manufacturers a clear edge in this race with PowiGaN-based power conversion solutions.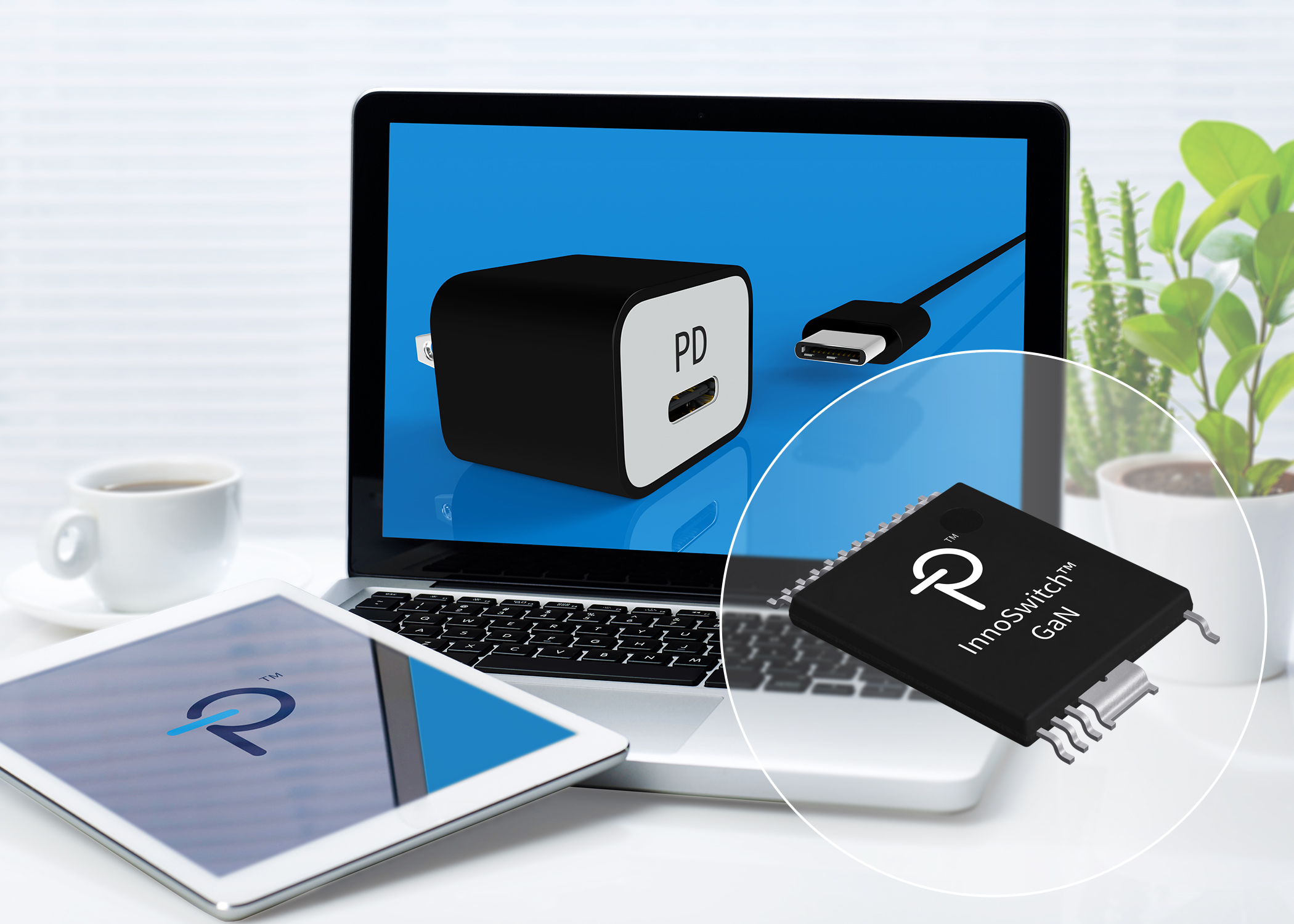 In July 2019, Power Integrations announced new members of its InnoSwitch™3 families of offline CV/CC flyback switcher ICs. The new ICs feature up to 95% efficiency across the full load range and up to 100 W in enclosed adapter implementations without requiring a heatsink.
This groundbreaking increase in performance was achieved using an internally developed high-voltage GaN switch technology — PowiGaN™.
PowiGaN™ is Power Integrations' internally developed gallium nitride (GaN) technology. PowiGaN switches replace the traditional silicon transistors on the primary side of PI's highly integrated offline flyback switcher ICs, reducing switching losses and enabling chargers, adapters and open frame power supplies that are more efficient, smaller and lighter than silicon alternatives.
PowiGaN switches replacing traditional silicon transistors result in previously unachievable levels of power density and size reduction in AC-DC adapters. A new design example report (DER-626) describes a USB PD+PPS mobile phone/laptop charger that supplies 65 W maximum output in a mere 4.2 in³ enclosure. The 90%-efficient design utilizes two PowiGaN-based devices: the InnoSwitch3-Pro flyback switcher IC and the recently introduced MinE-CAP IC.
The InnoSwitch3-Pro IC allows dynamic adjustment of output voltage and current via a universal I²C interface, simplifying compliance with USB PD and PPS requirements. It also eliminates the need for DC-DC stepdown converters, resulting in significant improvement in converter efficiency for multi-port designs.
The MinE-CAP IC halves the size of high-voltage electrolytic bulk capacitors, resulting in up to 40% adapter size reduction without compromising output ripple, operating efficiency or requiring a redesign of the transformer. It also provides enhanced ruggedness for regions with wide ranging input voltages, as it dramatically reduces the number of high-voltage storage components and shields lower voltage capacitors from wide mains-voltage swings.
Download the white paper :
https://ac-dc.power.com/ac-dc/design-support/articles/powigan-extends-the-power-range-of-innoswitch3-ic-families-whitepaper