Radio waves are a type of electromagnetic radiation with the longest wavelengths in the electromagnetic spectrum, typically with frequencies of 300 gigahertz (GHz) and below.
Like all electromagnetic waves, radio waves in vacuum travel at the speed of light, and in the Earth's atmosphere at a close, but slightly lower speed.
Radio waves are generated by charged particles undergoing acceleration, such as time-varying electric currents.
Naturally occurring radio waves are emitted by lightning and astronomical objects, and are part of the blackbody radiation emitted by all warm objects.
Four Ways of Propagation:
Radio waves can propagate from transmitter to receiver in four ways: through ground waves, sky waves, free space waves, and tropospheric scatter propagation.

Ground Wave Propagation
Ground waves exist only for vertical polarization, produced by vertical antennas when the transmitting and receiving antennas are close to the surface of the earth.
Ground wave propagation is dominant only at relatively low frequencies, up to a few MHz.

Sky Wave Propagation
Skywave propagation also known as the skip is a type of radio wave propagation.
It is either the reflected or refracted back waves to the earth from the ionosphere which is an electrically charged layer of the upper atmosphere.
Medium and shortwave frequencies can be refracted back to earth which is beyond the horizon which makes them useful in the transcontinental transmission of waves.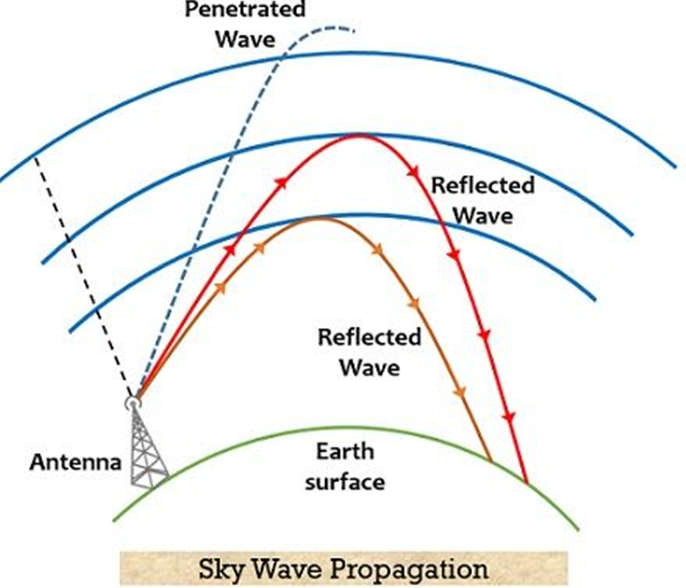 Space Wave Propagation
Space wave propagation is a type of radio wave propagation in which radio waves go directly from the transmitting antenna to the receiving antenna or are reflected from the ground.
In general, line-of-sight communication is used in space wave propagation to achieve direct signal transfer.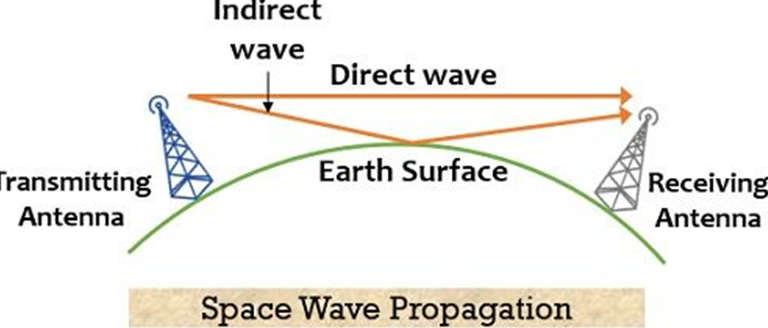 Tropospheric Scatter Propagation
Tropospheric propagation is sometimes called forward scatter propagation or scatter propagation and is suitable for VHF, UHF, and microwaves. In this, the waves propagate through forwarding scattering due to the irregularities of the troposphere.
It is called so because in this case, the propagation occurs beyond the horizon i.e., the fine layers of the troposphere.
This type of propagation sometimes leads to the production of unwanted noise or fading.