Japan's Rohm Semiconductor has introduced its silicon carbide (SiC) technology at the first race of the new 2016/2017 Formula E season in Hong Kong. With the start of season 3, Rohm is starting its official partnership with the Venturi Formula E team.
The collaboration between Rohm and Venturi in Formula E highlights power management as the key to the all-electric racing series. The challenge of Formula E is to find the most efficient way of using the energy provided by the battery and applying it on the road. Rohm hence developed new power device technology using silicon carbide, which can withstand much higher electric fields than conventional silicon, resulting in extremely low losses of power and higher temperature resistance. Rohm and Venturi thus hope to gain an edge over the competition while also pushing forward development of new technical solutions to increase power conversion efficiency.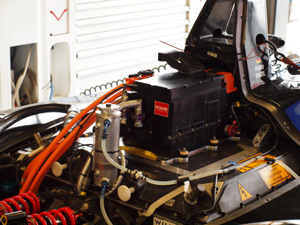 SiC technology making power electronics smaller, stronger and faster
Using SiC technology in power devices, Rohm has achieved lower power consumption and more efficient operation. Compared with conventional silicon, benefits include the following:
Smaller – System miniaturization means reduced size and weight, allowing improved weight distribution in motorsport and less power consumption in general.
Stronger – SiC-based devices can work with higher voltages and currents, increasing power density and reducing switching losses even under high temperatures.
Faster – Increased performance, maximizing speed.
"The silicon carbide technology that Rohm has introduced and which we will be using in our cars from the start of this season allows us to successfully manage the heat being produced, therefore enabling greater engine power," says Venturi Formula E team driver Maro Engel.
The partnership with Rohm "improves the overall electronics of our car, so we can reach higher performance with our electric motors," adds Venturi Formula E team chief technology officer Franck Baldet.
The inverter for season 3 features embedded SiC Schottky diodes, making it 2kg lighter than season 2's inverter. Electric efficiency has been increased by 1.7%, while the volume of heat extraction components has been reduced by 30%. In season 4, the SiC MOSFET integrated inverter will demonstrate drastic changes once again, says Rohm.
Sponsorship and technology partnership targets future development
As a developer of SiC products and power devices in particular, Rohm claims to be the first company to manufacture SiC MOSFETs (in 2010). In the automotive sector, an increasing number of electric vehicles (EVs) and inverters are adopting the use of SiC, and Rohm already has a large market share of on-board chargers for rapid charging.
For the first time, Rohm Semiconductor has become a global sponsor for the brand. The firm says that the partnership exemplifies its commitment to further the development of power and energy management systems, and that bringing SiC technology to Formula E and to e-mobility in general is a key step in changing drive technology. Also, Rohm reckons that, when the collaboration with Venturi shows how effectively the new technology works, SiC power devices will make their way into serial production.
"In the coming years, we should see SiC devices increasingly find their way into power electronics for hybrid and all-electric vehicles, creating simpler and more efficient power systems," says Dr Kazuhide Ino, general manager of Rohm's Power Device Division. "By making more economical technologies available for a wide array of industries and larger parts of society, we hope to take a prominent role in revolutionising energy policy."