South Korea's Samsung Electronics Co Ltd has begun mass producing a new mid-power LED package, the LM301B (with samples available now), featuring what is claimed to be the industry's highest luminous efficacy of 220 lumens per watt. The package is suited to a range of LED lighting applications including ambient lighting, downlights and most retrofit lamps.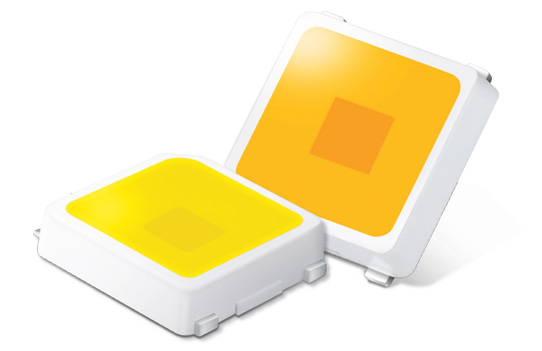 Samsung says that it was able to achieve this efficacy – at a drive current of 65mA, color temperature of 5000K, and color rendering index (CRI) of 80+ – by incorporating an advanced flip-chip package design and state-of-the-art phosphor technology. The LM301B's flip-chip design uses a highly reflective layer-formation technology to enhance light efficacy at the chip level. Also, complete separation between its red phosphor film and green phosphors allows minimal interference during the phosphor conversion process, resulting in higher efficacy than conventional phosphor structures. The firm says that these combined technology enhancements enable a 10% increase in overall efficacy compared with competing 3030 platform packages, without compromising on premium-quality light output.
"With our LM301B, we are able to deliver even greater mid-power value and help lower the total cost of ownership for LED lighting manufacturers," says Jacob Tarn, executive VP of the LED Business Team at Samsung Electronics.