okyo-based Showa Denko K.K. (SDK) has expanded its product lineup of infrared light-emitting diode (IR-LED) chips, which are mainly used as parts of photo-couplers for gate drivers in power semiconductor modules and parts of sensors for Internet of Things (IoT)-related devices.
SDK's IR-LED product lineup has three categories: conventional LEDs made by liquid phase epitaxy (LPE), and transparent-type LEDs and reflection-type LEDs made by metal-organic chemical vapor deposition (MOCVD). The firm says that, since the IR-LEDs have characteristics such as good power linearity at low electric current and a fast response time at a high speed cycle, they are widely used in equipment that require high reliability such as industrial equipment, automotive equipment, medical devices, and security systems.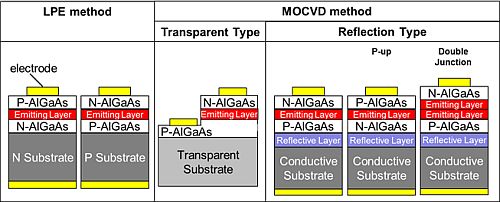 Reflection-type LED comprise a chip with enhanced output via a mirror layer formed beneath the light-emission layer in order to reflect the light beam upwards. These LEDs have been used in photoelectric sensors for industrial equipment and other devices. SDK has now upgraded its technology to manufacture reflection-type LEDs, and added a double-junction reflection-type LED and a P-up reflection-type LED to its IR-LED product lineup.
The double-junction reflection-type LED chip has two light-emission layers, yielding output nearly twice that of conventional reflection-type LEDs. It is suitable for applications that require high-output LEDs, such as biometric sensors, surveillance or security cameras, virtual reality, and sensors for automotive equipment.
The P-up reflection-type LED has a polarity reversed from that of an N-up structure (the mainstream structure of conventional reflection-type LEDs). To manufacture IR-LEDs, LPE is widely used, and this method is mainly used to produce LEDs with a P-up structure. SDK has developed the new P-up reflection-type LED in response to requests from customers wanting to develop high-power modules compatible with circuit designs for conventional P-up non-reflection-type LEDs. The P-up reflection-type LED offers a greater choice of chip structures and more degrees of freedom in designing circuits for packages and modules.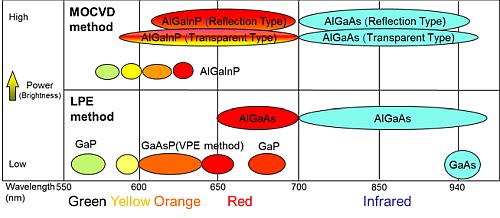 With a 40-year history of manufacturing and selling aluminium gallium indium phosphide (AlGaInP), gallium arsenide (GaAs) and gallium phosphide (GaP) LEDs, SDK has in recent years expanded its IR-LED business. In addition to developing new LED chips in its main Chichibu Plant, SDK acquired Shoko Electronics Corp (SKEC) of Hioki City, Kagoshima Prefecture (which makes IR-LED chips for industrial equipment, automotive equipment and consumer appliances, as well as LED chips for displays) from Shoko Co Ltd. SDK has hence established a supply of LED chips with two production bases, integrated the two companies' technologies and quality-control expertise, and established the supply of a wide variety of LED chips to a diversified LED market.
The market for IR-LEDs is expected to expand with the emergence of IoT-related device markets. SDK hence aims to continue to expand its LED lineup in response to market demand.