StratEdge of San Diego, CA, USA (which designs and produces packages for microwave, millimeter-wave, and high-speed digital devices) says that its off-the-shelf line of molded ceramic packages can be configured to meet the requirements for chips with frequencies up to 18GHz, including gallium nitride (GaN) devices. The firm's molded ceramic packages come in over 200 standard outlines, dramatically increasing the packaging options for GaN devices. StratEdge also offers complete automated assembly & test services for these packages, including gold-tin solder die attach.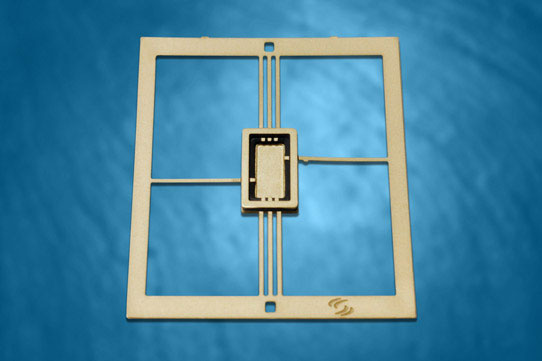 GaN devices are traditionally packaged in StratEdge's LL family of high-power laminate copper-moly-copper (CMC) base packages with a ratio of 1:3:1 CMC, accommodating frequencies up to 63GHz. In the molded ceramic package, the standard Kovar base can be replaced with CMC. For frequencies of 18GHz or less, using a molded ceramic package provides the advantages of hermeticity, a broad array of outline packages and lower cost, while the CMC provides the heat dissipation needed for GaN devices to meet requirements for aerospace applications. For surface-mount (SMT) applications, the packages can be manufactured with gull-wing formed leads, offering flexibility since it is inexpensive to change the lead design to match an existing footprint.
"StratEdge has hundreds of molded ceramic MC Series packages in standard, open-tooled configurations, which are all Mil-Std hermetic," says president Tim Going. "By swapping out their bases with CMC, you get a low-cost, high-power, fully hermetic packaging solution."
StratEdge is exhibiting at the 2017 IEEE Compound Semiconductor Integrated Circuit Symposium (CSICS) in Miami, FL, USA (22-25 October).