Taiwan Semiconductor (NYSE:TSM), the world's largest pure-play foundry, reported on April 13, 2017, at its investor meeting that it cut foundry growth outlook for 2017, revising downward its forecast for 2017 global foundry growth to 5% from 7% due to elevated inventory in the supply chain.
Combined, pure-play foundries had total semiconductor revenues of $44.7 billion in 2016, representing 15.8% of the global semiconductor market. Besides TSMC, other pure-play foundries include Globalfoundries, UMC (NYSE:UMC), SMIC (NYSE:SMI), Powerchip Technology, TowerJazz (NASDAQ:TSEM), Vanguard International, Shanghai Huahong Grace, Dongbu, and X-Fab.
These revenue numbers don't include non-pure-play foundries, which not only make chips for others, they make them for themselves. These companies include Samsung Electronics (OTC:SSNLF), Intel (NASDAQ:INTC), Texas Instruments (NYSE:TI), and ST Microelectronics (NYSE:STM).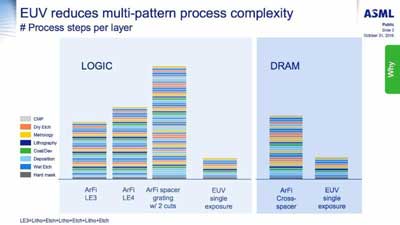 In other words, the foundry market is huge. TSMC represented 16% of AMAT's total company revenues in 2016.
Most importantly TSMC reported that more than 30 customers are actively engaged with TSMC on 7nm process technology, and the foundry expects to have 15 customer tape-outs in 2017, with risk production later in the second quarter of 2017, followed by volume production in 2018.
Why is this important for AMAT? The migration to EUV lithography will eliminate numerous deposition-etch steps currently used to manufacture a leading-edge chip. I discussed this in a March 30, 2017, Seeking Alpha article entitled "The Switch To ASML's EUV Lithography Will Impact The Entire Semiconductor Supply Chain."
The following graphic from ASML succinctly illustrates how the transition to EUV from multiple patterning DUV lithography will eliminate numerous deposition-etch steps. With EUV coming into volume production in 2018 at TSMC, these eliminations are lost 2017 sales to AMAT.
Best Supplier Awards
Intel and TSMC are two of the top three semiconductor manufacturers in the world. In 2016, Intel had revenues of about $56.3 billion and TSMC had revenues of $29.3 billion. Combined, these two companies' revenues represented 30.3% of 2016 worldwide semiconductor revenues of $282.1 billion.
Both companies are also two of the top three capex spenders. In 2017, according to the table below, Intel is forecast to spend $12 billion, up 25% in 2017 and TSMC is expected to have a capex spend down 2% to $10 billion.