Does size really matter?
By Claudia Jarrett, US country manager at automation parts supplier EU Automation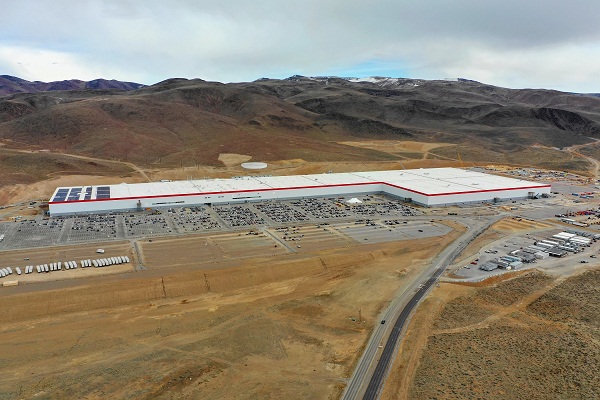 Tesla's gigafactory in Nevada, producing batteries on a huge scale for the company's electric vehicles (EVs), is bound to be the building with the largest footprint on Earth once fully completed. In contrast, British start-up Arrival is turning ex warehouses into microfactories, with plans to build a second microfactory in the United States that offers ultra-flexible production. What's the best approach? Here Claudia Jarrett, US country manager at automation parts supplier EU Automation, delves into the pros and cons of both gigafactories and microfactories.
With an astounding floor space of 5.3 million square feet and an impressive array of cutting-edge production technologies, Giga Nevada, also known as Gigafactory 1, stands in sharp contrast with the desert landscape in which it's situated. In perspective, its total floor space distributed on several levels occupies the equivalent of about 90 football fields — and the already built portion represents only 30 per cent of the final project.
However, it's not size alone that makes this gigafactory remarkable. Giga Nevada can take care of all aspects of battery production in-house, from processing raw materials to shipping the final products. Effectively, it can gather all the nodes of one of the most complex supply chains in the world under one roof.
The gigafactory will also be one of the most sustainable buildings in the world, with the ability to recycle legacy batteries and plans to rely entirely on on-site solar, wind and geo-thermal energy to power its facilities. Tesla's founder, Elon Musk, strongly believes in going bigger and even stated that 100 such facilities could power the entire world and complete the global transition from fossil-derived to sustainable energy.
Is bigger, better?
Gigafactories have several advantages over smaller facilities. They can eliminate some of the risks of complex supply chains, they are built with sustainability in mind from day one and they spur economic growth by creating employment opportunities for thousands of people.
However, these facilities perpetuate the linear manufacturing approach introduced in the meatpacking industry and applied on a large scale by Ford Motor Company more than 100 years ago. In this sense, gigafactories are not different from other standard manufacturing facilities — they're just much bigger. While offering many advantages in terms of efficiency and optimised logistics, the linear assembly model has limited flexibility. For example, if a new station is to be added to the current set up, production needs to stop, and the factory layout would likely need to be revised.
This is one of the reasons why Arrival is favouring agility and innovation over sheer size. In fact, the company is investing in a multitude of microfactories, that are small facilities with flexible set ups that are built closer to where the final vehicles will be distributed and used.
Smaller in design
The concept of the microfactory was first developed in 1990 in Japan by the Mechanical Engineer Laboratory (MEL). It typically involves highly automated processes along with the miniaturisation of equipment and systems, with the goal of cutting costs and saving energy.
While Arrival has embraced the microfactory concept, its final products are not small as the theory suggests. The company specialises in vans and buses that are produced in highly automated facilities, occupying about 200,000 square feet and where stations are arranged modularly instead of linearly.
This means that if they want to add an additional station, they can simply install it anywhere in the facility without interfering with the current set up. Plant managers just need to modify the software to send vehicles to that station before they continue their journey to the next one.
In fact, from the success of these microfactories, Arrival's second US microfactory will be producing two different classes of EV vans for U.S. customers, with the company's first U.S. microfactory being used to assemble electric buses.Arrival is investing about $41.2 million in the production center, which will have the capacity to assemble up to 10,000 electric delivery vans each year.
The reason why Arrival's vehicles can be built in a microfactory is simple — they've been designed alongside the manufacturing process. For example, instead of using traditional welding processes, they rely on fixing methods from the aerospace industry, such as adhesives and mechanical fixings, which allows the company to eliminate welding stations entirely.
Moreover, Arrival has eliminated one of the most crucial steps of automotive manufacturing — painting. Instead, the colour is moulded into the material itself, removing not only the cost of fixing cosmetic damage such as scratches, but also the need for a paint shop.
It is still early to determine who will win the race to dominate the very profitable EV market, but one thing is sure — Arrival's tiny factories demonstrate the potential of thinking outside the box. By completely reinventing such an established process as vehicle manufacturing, the start-up has managed to emerge in a landscape dominated by corporations with virtually unlimited cash flow.
Another conclusion we can draw by comparing these two antithetical models is that, regardless of size, automation is the key to efficiency. In the case of gigafactories, for example, autonomous guided vehicles (AGVs) are essential to move materials and finished products efficiently in such a vast space. In Arrival's microfactories, modular clusters — known as cells — contain four robots running on the company's proprietary software that can be easily set up to complete a wide variety of tasks and can be quickly reprogrammed to meet changing production needs.
Whether manufacturers decide to invest in a gigantic facility or prefer to reinvent traditional processes to favour flexibility and scalability, end-to-end automation is crucial to streamline production, cut waste and increase efficiency. To learn more about the benefits of automation and to have access to a wide range of new, reconditioned and obsolete automation parts, visit the EU Automation website.