The TL431 Regulator is a shunt voltage regulator IC with adjustable precision. The output voltage can be programmed by changing the values of the connected resistors. As a result, it is known as a programmable shunt regulator. The operation of this IC is nearly identical to that of a Zener diode, with the exception that the voltage rating is programmable.
It is also known as an adjustable Zener diode. It is primarily used in electrical circuits to provide positive or negative voltage reference. It is inexpensive and widely used as a reference voltage provider in isolated power supply circuits. The TL431 regulator chip is depicted in the diagram below.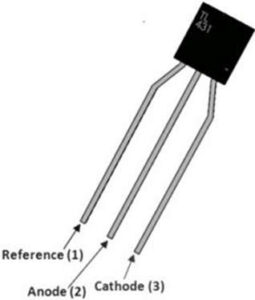 It is a 3-terminal shunt voltage regulator diode integrated circuit that comes in a To-92 package. The resistor divider connected to the IC's reference terminal is changed to increase the output voltage rating from 2.5 to 36 Volts. The operating current is between 1 and 100 mA, with a typical impedance of 0.22 Ohms.
It delivers consistent performance over a wide temperature range. It is used in a variety of applications when Zener diodes need to be replaced because its operation is nearly identical to that of a Zener diode except that the output voltage is programmable and adjustable. It is widely used as a reference voltage source in overvoltage and Under voltage monitoring circuits, window voltage monitoring circuits, and power supplies.
TL431 Regulator Pin Configuration
The TL431 regulator is a 3-terminal shunt regulator with certain thermal stability over the automotive, military, and commercial temperature ranges. The figure below depicts the TL431 regulator pin configuration/pin diagram. The TL431 regulator diode's schematic symbol is shown in the figure below.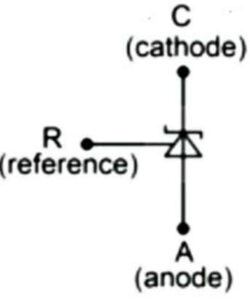 Pin1 (Reference): It is used to set the voltage rating of the Zener diode.
Pin2 (Anode): It is the anode terminal of the equivalent Zener diode.
Pin3 (Cathode): It is the cathode terminal of the equivalent Zener diode.
Applications of TL431 Regulator
The applications of the TL431 regulator are listed below.
It is used in SMPS (Switch Mode Power Supplies)
It is used in circuits of isolated power supplies.
Used in voltage comparators with integrated reference.
Used in current regulation circuits.
Used in precision reference voltage source circuits.
Used in regulated power supply circuits, which are adjustable.
Used in circuits of overvoltage protection.
Used in voltage monitors.
Used in constant current source circuits.
Used in controllable shunt characteristics.
Used when replacement of Zener diodes is required.
Used in solar applications.
Used in monitor and battery charger circuits.