There are many different types of the oscilloscope
 1. Analog oscilloscope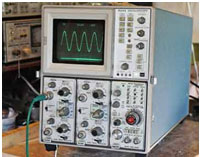 This used a cathode ray tube to display the waveforms. The cathode ray tube used thermionic or vacuum tube technology firing a stream of electrons along the tube. The position of the stream was modified by voltages on the plates along the tube providing control of the position in both horizontal and vertical axes. When the electron stream hit the screen it struck a phosphor coating that glowed in the area where the electron hit giving a shot of light moving this enabled the waveforms to be displayed the basic analog oscilloscope did not have a storage facility however it was possible to buy storage scopes that used analog technology to store and display the image for while. This analog storage was very expensive and not particularly good by today's standard. Analog scopes were generally large and bulky but as digital technology improved and took over naturally made a big impact.
2.Digital oscilloscope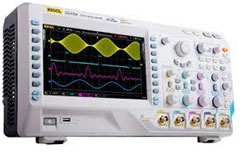 Digital oscilloscopes possess many capabilities that were not even imagining of in the days of analog technology. In digital oscilloscope, it becomes possible to include a host of additional facilities often a standard storage much better manipulation of the display, better triggering, more control over the scope. Digital oscilloscopes were first introduced names like digital phosphorus oscilloscope and Digital storage oscilloscopes. nowadays, these terms are not widely used.
3.Mixed Signal Oscilloscope
A Mixed Signal Oscilloscope is a type of oscilloscope that combines the normal analog channels of an oscilloscope with additional logic channels of a
. The purpose of the mixed-signal oscilloscope is to provide the functionality of a digital oscilloscope along with a basic logic analyzer. Among numerous electronic circuit designs combining analog electronic circuit design with digital circuitry, there is often a requirement to have some analog oscilloscope input channels to look at waveform shapes and then several logic analysis channels for looking at the digital state of various channels.
4.Mixed domain oscilloscope
A mixed domain oscilloscope is a combination of an oscilloscope and a spectrum analyzer. This allows for testing circuits that may require a mixture of spectral analysis and the normal scope measurement. It is the type of scopes that has a dedicated RF connector that can only be used for frequency-domain measurements is a true mixed domain oscilloscope and this normally has a higher performance spectrum analysis capability. This oscilloscope has Low noise performance and a large input frequency range. It also has Superior fidelity.
5.Digital Sampling Oscilloscope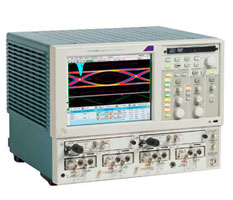 Digital Sampling Oscilloscope is a specialized form of the scope used for a limited number of niche applications. This type of oscilloscope is used for analyzing very high-frequency signals. Signals that are repetitive and whose frequencies are higher than the oscilloscope's sampling rate. The frequency range of the oscilloscopes depends on their design. The advantage of the sampling oscilloscope is it be capable of measuring the very high-speed event with the help of the instrument having lower bandwidth. The disadvantage of the oscilloscope is that it can only measure the repetitive or continuous signal.