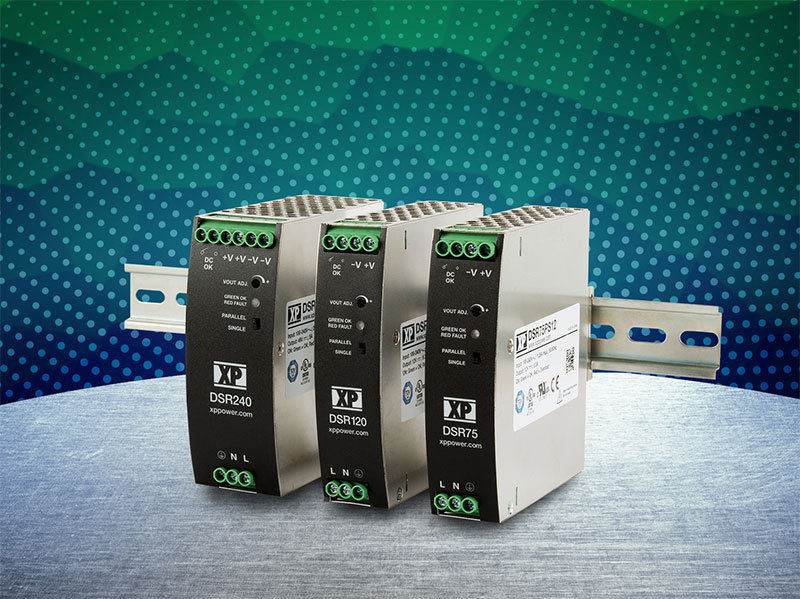 November 26th 2018 – XP Power has announced the DSR range of AC-DC DIN rail power supplies approved for industrial control systems (ICE) and information technology equipment (ITE) applications. These versatile supplies provide reliable power with a 150% peak load capability in a slimline DIN rail mount metal case.
Competitively priced, the DSR's ultra slim, space saving design features a width of just 32mm for 75W and 120W models, and 45mm for 240W models, making them the slimmest profiles available in the market today.
For use in industrial and building control applications, specific deployment areas include machine control, process control, factory automation, escalator/travelator/elevator/lift control, building heating/aircon monitoring, control and security systems.
Technological advancements in these areas require greater automation and control, whilst minimising control system size without compromising reliability. XP Power's DSR power supplies are perfectly suited to address these needs.
DSR power supply models DSR75, DSR120 and DSR240 are rated at 75W, 120W and 240W respectively, and similarly feature high efficiency figures of 91, 92 and 94% respectively. The two lower power models are available with 12, 24 and 48V outputs, whilst the DSR240 is available with 24 or 48V outputs. All models operate from 85 to 264 VAC.
The power supplies' 150% peak load capability enables start up for electro-mechanical loads. Ambient temperature rating is -25 to +70 degrees C for all models with rated power available up to 50 or 60 degrees C model dependant.
Volt free relay contacts facilitate remote monitoring for DC OK. Units can be paralleled for higher requirements or to configured to provide N+1 redundancy in critical applications.
The series is available from Digi-Key, element14, Farnell, RS Components, approved regional distributors, or direct from XP Power and come with a 3-year warranty.