UM3561 is an 8-pin low-power sound generator chip consisting of a programmed mask ROM and a tone generator.
The tone generator produces different tones depending on the information written by the ROM. This low-power and the low-cost chip is suitable for simulating siren sounds in alarm circuits and toys. Additionally, we can attach an external speaker through a bypassing transistor.
Working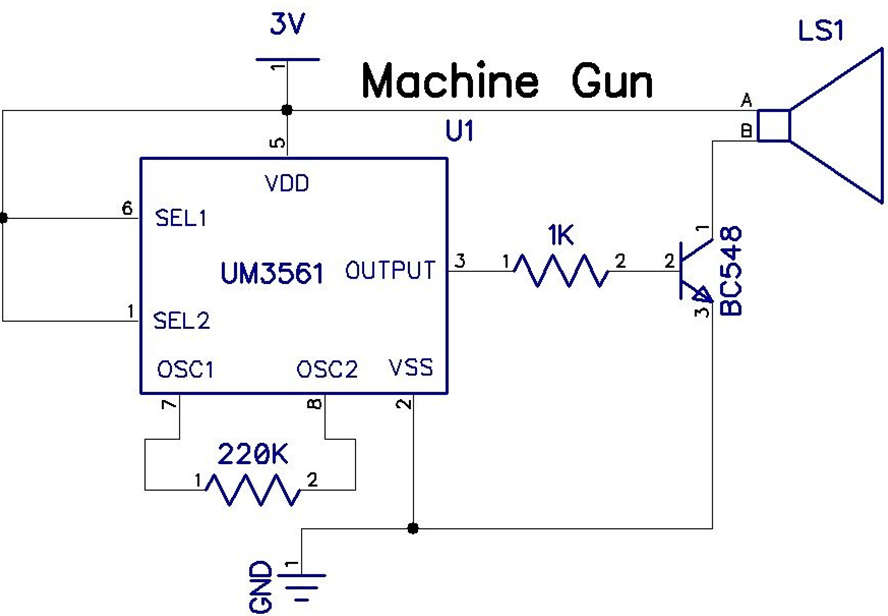 SEL2 Sound Effect Selection Pin No.2.
2 Vss Negative of Power Supply.
3 OUTPUT Mono-tone Output.
4 NC Internal Testing Pin: Leave Open for Normal Operations.
5 Vdd Positive of Power Supply.
6 SEL1 Sound Effect Selection Pin No.1.
7 OSC1 External Oscillator Terminal 1.
8 OSC2 External Oscillator Terminal 2.
UM3561 IC generates a multitone output signal.
Pin7 and piN8 are used to control the frequency of the internal oscillator by connecting an external resistor(usually 220KΩ) between these two pins.
These oscillations are then transferred to the control circuit which selects a tone based on the inputs of pin6 and pin2 select pins.
Then the control circuit will pass this signal to the address counter and from the address counter to ROM and then to an output pin.
An NPN transistor is usually connected at the output to amplify the sound since the sound signal produced is very weak.
Example:
To create a police siren circuit you need to create connections as per shown in the below circuit.
Steps:
Adjust IC UM3561 on the middle of the breadboard.
Leave pin 1 unconnected and connect pin 2 with the ground pin battery.
Connect pin 3 with the base of transistor BC547 using a 1k resistor.
Connect the negative end of the speaker with the collector of the transistor and the positive end with the positive end of the battery.
Connect the emitter of the transistor with the ground battery.
Leave pin 4 unconnected and connect pin 5 with the positive of the battery.
Leave pin 6 unconnected. Connect pin 7 and pin 8 using a 220k ohm resistor.