Introduction 
Sir John Ambrose Fleming is a British scientist who invented the first vacuum tube called vacuum diode in 1904. It is also known as Fleming valve or thermionic tube. Vacuum diode is the simplest form of a diode which is made from vacuum tubes and two electrodes i.e., anode and cathode. The anode and cathode are enclosed inside the vacuum tube. It is an electronic device that allows the flow of current in unidirectional i.e.; cathode to anode and block the flow of current in another direction i.e.; anode to cathode. The cathode emits the free electrons. Thus, it is known as an emitter. The anode collects the free electrons. Thus, it is known as a collector. A vacuum tube is a device that controls the flow of electric current in the high vacuum between electrodes so that an electric potential difference has been applied.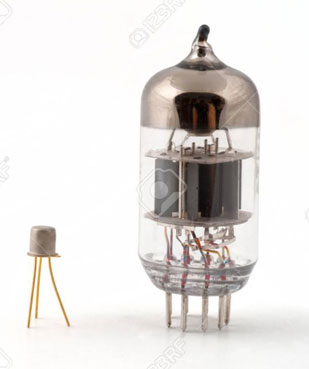 Advantages
 Vacuum diode has Better sound quality.
Characteristics of Vacuum diode are highly independent of temperature.
It has a wider dynamic range as compared to transistors circuits, due to higher operating voltages as well as overload tolerance.
Device capacitances vary only slightly with signal voltages.
Capacitive coupling can be done with small, high-quality film capacitors, due to inherently high-impedances of tube circuits.
Circuit designs tend to be simpler than transistorized equivalents.
 Output transformer in power amp protects the speaker from DC voltage due to malfunction and protects tubes from shorts and blunts back-emf spikes from the speaker.
Tubes can be easily replaced by the user.
 Disadvantages
Vacuum diode is Bulky, that's why it is less suitable for portable products.
It generally required higher operating voltages.
It consumes High power.
Glass tubes are fragile, compared to metal transistors.
Sometimes more prone to microphones than transistors, depending upon circuit and device.
 Cathode electron-emitting materials are used up in operation.
Sometimes higher in cost
Applications 
Used in Televisions, radios, and even early computers, microwave ovens, mobile phones, Bluetooth, Wi-Fi transmissions, and even in radar and satellite communication devices. Other vacuum tube devices include X-Ray tubes, cathode ray tubes, magnetrons, and photomultipliers.