Epitaxial deposition and process equipment maker Veeco Instruments Inc of Plainview, NY, USA has reported revenue for full-year 2017 of $484.8m, up 46% on $332.5m for 2016, aided by a good year for the blue LED market, despitle a competitive environment that saw the firm's share of the metal-organic chemical vapor deposition (MOCVD) market for gallium nitride (GaN) blue LEDs trimmed to 55% according to market research firm IHS (compared with about 75% previously). However, revenue growth is partly due to the acquisition in late May of Ultratech Inc of San Jose, CA, USA (which designs and makes lithography, laser-processing and inspection systems used to manufacture microelectronic devices and LEDs).
Fourth-quarter 2017 revenue was $143.4m (a sixth consecutive quarter of growth), up 9% on $131.9m last quarter and up 53% on $93.6m a year ago, driven primarily by shipment of MOCVD and laser anneal systems.
Of total revenue, the LED Lighting, Display and Compound Semiconductor segment has jumped from 45% last quarter to 58%, due mostly to shipments to LED customers in Malaysia, Korea and Taiwan, as well as new sales to China (for expansion of GaN blue LED manufacturing capacity), which comprised 13% of total revenue.
The Advanced Packaging, MEMS & RF Filter segment comprised 9% of revenue (down from 17%). The Front-End Semiconductor segment (formerly part of the Scientific & Industrial segment, before the Ultratech acquisition) also comprised 9% of revenue (down from 13%).
The Scientific & Industrial segment comprised 24% of revenue (roughly level with 25% last quarter), driven by strength in shipments of ion beam tools to the data storage industry and SPECTOR System to the optical coatings market.
Geographically, 18% of revenue came from China (rebounding from 12%), USA 15% (down from 18%) and 14% from Europe, the Middle East & Africa (EMEA, rebounding slightly from 13%), with the rest of the world rising further, from 49% to 53%, driven by MOCVD sales for blue LED makers' capacity expansions in Malaysia, South Korea and Taiwan.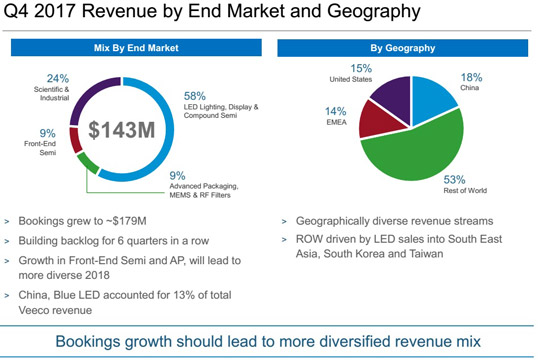 On a non-GAAP basis, full-year gross margin fell from 40.8% in 2016 to 40.6% for 2017. Q4 gross margin of 41.5% is down from 42.3% last quarter but up from 39.2% a year ago (and above the 39-41% guidance), reflecting a favorable product mix and ongoing cost-reduction efforts.
Full-year operating expenditure (OpEx) rose from $143.6m in 2016 to $165.5m, but Q4 OpEx of $49m (up from $32.9m a year ago but roughly level with $48.9m last quarter) was at the low end of the expected range of $49-51m.
Quarterly net income rose further, from $3.8m ($0.09 per diluted share) a year ago and $4.3m ($0.09 per diluted share) last quarter to $9.1m ($0.19 per diluted share, above the $0.00-0.16 guidance range) in Q4/2017. Full-year net income was $23.4m ($0.53 per diluted share), compared with a net loss of $11.3m ($0.29 per diluted share) in 2016.
Cash flow from operations was $19m. On 11 December Veeco announced a share repurchase program of $100m, and in the last few weeks of December it bought $3m worth of shares. Overall, during Q4, cash and short-term investments rose by $7m, from $321m to $328m.
"2017 was a transformational year for Veeco. We completed the acquisition of Ultratech, which is providing us with a more diversified revenue stream, and the integration is proceeding well, with greater synergies than we originally expected," says chairman & CEO John R. Peeler. "We also completed the manufacturing consolidation in our New Jersey facility, generating good annual savings [of $4m annually]," he adds.
"We ended the year with strong bookings and historically high backlog," notes Peeler. Q4 order bookings were $179m, up 10% sequentially (growing for a third consecutive quarter, with backlog building for a sixth consecutive quarter, up by $35m on Q3 to $334m).
"The markets with most growth in bookings were Front-End Semiconductor and Advanced Packaging," notes chief financial officer Sam Maheshwari. "In Advanced Packaging, MEMS and RF Filter markets, we are beginning to see a recovery, as orders more than doubled in Q4. We booked multiple Lithography tools, as well as a multi-tool order for our wet etch PSP [Precision Surface Processing] tools supporting UBM etch and RDL etching," he adds. In Front-End Semiconductors, bookings growth was driven by capacity orders for two laser spike annealing (LSA) systems.
In Lighting, Display & Compound Semiconductor markets, Veeco received multiple large multi-system orders from customers in China (including EPIK 868 MOCVD systems for high-volume LED maker Focus Lighting, announced in December). "Since we introduced the EPIK 868 last September, we've shipped several large orders to Chinese customers, as our platform enables greater productivity and lower cost of ownership," says Peeler. "Outside of China and general lighting, we're seeing increasing strength in areas such as photonics and RF devices," he adds, with orders tied more to the prior EPIK 700 model than the EPIK 868. Veeco also received several orders for MOCVD and PSP products to support production of red, orange and yellow (ROY) LEDs, laser diodes and vertical-cavity surface-emitting lasers (VCSELs). In January, Germany's Osram Semiconductors GmbH placed follow-on orders for K475i and Propel MOCVD systems, which are designed for high-volume production of power electronics, laser diodes, RF semiconductor devices, and LEDs. "VCSELs is another area within photonics where we're gaining traction. Our PSP systems, in addition to our MOCVD systems, are used in VCSEL manufacturing," notes Peeler.
"Backlog gives us a good visibility for first-half 2018," says Maheshwari. "In MOCVD, most regions are reporting fab utilization rates of over 85%, and we expect the market to remain robust," adds Peeler. For first-quarter 2018, Veeco expects revenue of $140-165m, gross margin of 34-36%, OpEx of $46-48m, and earnings per share ranging from a loss of $0.04 to a profit of $0.14.
"Entering 2018, we expect to grow in all of our target markets, and we are seeing particularly healthy demand in Advanced Packaging, MEMS & RF Filter and Front-End Semiconductor markets," says Peeler. This should lead to a more balanced revenue mix for 2018, targeting 40-50% in LED Lighting, Display and Compound Semiconductors, and 15-20% in Advanced Packaging, MEMS & RF Filters, 15-20% in Front-End Semiconductors, and 15-20% in Scientific & Industrial.
"We are expecting strong growth in 2018 sales over 2017," says Maheshwari. "We see first-half gross margin coming in towards the higher end of the previously guided 30-35% range [i.e. 34-35%]." Additionally, Veeco continues to expect second-half gross margin to be higher than the first half, exiting the year at 40% or more.