A catalytic flammable gas sensor is a type of sensor used for combustible gas detection that belongs to the pellistors family of gas sensors.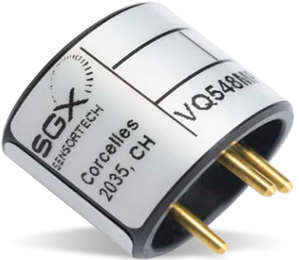 Flammable gases can come from a variety of sources, including pressurized tank leaks, vapors emitted by liquid gases, and natural chemical reactions. For example, methane, the most common flammable gas, is naturally produced by the breakdown or decay of organic material. Some of the most common flammable gases are listed below.

Acetylene
Ammonia
Hydrogen
Methane
Propane

The catalytic calorimetric or catalytic type, also known as a "pellistor," is the oldest type of flammable gas sensor. Its development in the early 1960s resulted in significant improvements in safety in the field of flammable gas detection.
A catalytic-type gas sensor is made up of two parts: a detector element (D) that contains catalytic material and is sensitive to combustible gases, and an inert compensator element. Combustible gases will only burn on the detector element, raising its temperature and, as a result, increasing its resistance. Combustible gases will not burn on the compensator; their temperature and resistance will remain unchanged in their presence.
Normally, both elements are used to form a Wheatstone bridge circuit, as shown in. A variable resistor (VR) is adjusted to keep the bridge circuit balanced in clean air and free of combustible gases. When combustible gases are present, only the detector element's resistance increases, causing an imbalance in the bridge circuit and thus producing an output voltage signal (Vout). The voltage signal at the output is proportional to the concentration of combustible gases. The output voltage can be used to calculate gas concentration.
Construction of Catalytic Flammable Gas Sensor
A detector cell and a reference cell make up the sensor. The detector cell is essentially a platinum wire coil (0.05mm or less) to which the carrier is attached and coated with an oxidation catalyst such as alumina. The gas will burn if the powered sensor is exposed to a combustible gas. The reference cell is essentially an identical platinum coil that has been treated to prevent combustible gas from igniting when it comes into contact with it. (To prevent sparking, both cells are enclosed in an explosion-proofed protective sintered metal and stainless steel 200-mesh netting because they become extremely hot during use, which could ignite the combustible gas.)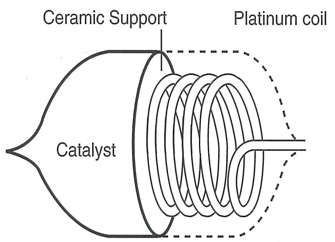 Working Principle of Catalytic Flammable Gas Sensor
As shown in the diagram, the gas concentration is measured using a Wheatstone-Bridge circuit. When no combustible gas is present in the sampled air, detector cells F1 and F2 have equal electrical resistance. As a result, if F1 x R1=F2 x R2, the bridge circuit will be in equilibrium and no current will flow through the meter. When combustible gas-containing air burns and contacts the detector cell, the electrical resistance increases with the combustion heat, and the bridge circuit loses equilibrium, with the current flowing through the meter nearly proportional to the combustible gas concentration below the lower explosive limit.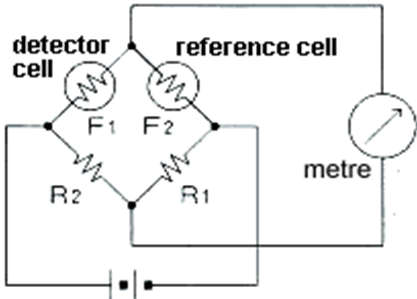 Pros & Cons of Catalytic Flammable Gas Sensor
Pros
Robust
It is simple to use.
It is simple to install, calibrate, and use.
Long life with a low cost of replacement.
Proven technology with high dependability and predictability.
Individual calibration is simple for gases such as hydrogen, which cannot be detected using infrared absorption.
Because they are not as sensitive to the buildup of industrial contaminants as optics, they can perform more reliably in dusty and dirty environments.
Can perform better in high-temperature applications.
Are less affected by humidity and condensation.
Changes in pressure have less of an impact.
Can detect the majority of combustible hydrocarbons.
Cons
Contamination (chlorinated & silicone compounds, prolonged exposure to H2S and other sulfur &/or corrosive compounds) can cause catalysts to become poisoned or inactive.
The only way to detect detector sensitivity loss is to check with the appropriate gas regularly and recalibrate as needed.
For detection, oxygen is required.
Prolonged exposure to combustible gas concentrations may degrade sensor performance.
If flooded with a very high gas concentration, the sensor may respond incorrectly low or not at all, and the sensor may be damaged or rendered inoperable.