Access Control Silicone Wristband RFID Bracelet Tag RFID applications employ Swimming Pool and Marathon. Ideal for controlling entry to offices, swimming pools, massage rooms, clubs, locker rooms, and buildings. RFID wristbands (or bracelets) come in a variety of designs and are lightweight, colorful, smooth-shaped, and simple to carry. They are also waterproof, making them comfortable for use while submerged in water.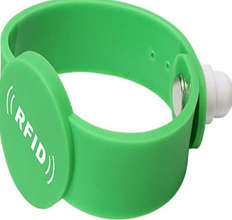 Now how does a Wristband RFID Bracelet Tag work?
RFID refers to a technique or procedure for sending a wristband's (or any object with RFID functionality) specific identification using radio waves.
By using specialized readers, or "scanners," the technology permits the transmission of RFID tag data to a back-end computer system without the need for physical touch.
An RFID scanner will transmit an encoded radio signal that identifies a tag when it is read (or "tapped"). RFID tags receive the message in less than a millisecond and respond with a special identifying number.
The barcode on a drink can serve perhaps the most straightforward everyday parallel to RFID. The barcode communicates with a database of soda-related data when it is scanned. When a barcode is read, information such as the product name, price, weight, and use-by date becomes available.
Is RFID wristbands the same as barcode wristbands?
No, The similarities between RFID and bar codes stop there, even though the idea behind data retrieval by scanning is the same. The difference between them is given below.
Parameters
RFID Wristband
Barcode Wristband
Read Rate
Excessive throughput. It is the perfect system for event admissions because thousands of tags may be read in only a few minutes.
Inadequate throughput. Only one code may be used at a time.
Line of Sight
Not necessary There is no specific orientation needed if the tag is within reading range. An RFID bracelet can be read from any angle, even the tag's back.
Required! Barcodes must be visible for scanners to be able to read them. The barcode needs to be facing a certain way. This is not practical, according to event planners. For the barcode to be read, it must always be spotless.
Resource
Low. A portal or integrated gate can automate RFID so that attendees can tap their tags when they enter an event.
High. To achieve correct scanning, human contact is almost always necessary.
Read/Write Capability
Real-time reading, writing, and even editing.
Read-only.
Durability
High. To protect RFID antennas from moisture, heat, and bumps, they can be embedded in a variety of non-conductive materials.
Low. Weather damage causes barcodes to malfunction. Bar codes must be completely readable to function.
Security
High. RFID is challenging to replicate. A password can be used to encrypt tags and the database they access. For this reason, paper tickets are being replaced by RFID wristbands at concerts and festivals.
Low. Simple to duplicate, copy, and counterfeit
Here's how to determine if your barcode concert tickets are real or phony.
How Much Data Can an RFID Tag Store?
Storage capacity is a crucial component of how RFID wristbands operate. The biggest passive RFID tags have a maximum data storage capacity of 3720 bytes or 3.72 kilobytes. Although it might seem like a modest quantity, it is sufficient to retain your name, address, credit card information, date of birth, and any other identifying details the local administrator wishes to keep track of.
Although ultra-high frequency tags can store up to 8 kilobytes of data, they are mainly only used in the aerospace sector. RFID tags are typically 3 kilobytes or smaller for wristbands and access control systems and do not store sensitive data like your social security number.
On RFID tags, you may occasionally find information like identification documents, gift cards, vouchers, and even social media integration. As a result, you have the option to choose whether or not your behavior at a checkpoint is automatically shared on social media. Even keycards for access control in hotels can be replaced by an RFID system.
Features & Specifications of Silicone Wristband RFID Bracelet Tag
Material: 100% SGS approval silicone, PPS high-temperature materials RFID Laundry Tag.
Printed: Screen printed, debossed, embossed.
Storage Temperature: -20°C~200°C.
Advantages of Silicone Wristband RFID Bracelet Tag
Fewer lines.
Put an end to theft and fraud.
Improve relationships with sponsors.
Shun cash.
Boost on-site attendee involvement.
Make an encounter.
Gather real-time analytical data.
Expand the VIP experience and streamline the check-in procedure.
Give people a memorable experience.
Applications of Silicone Wristband RFID Bracelet Tag
For payments, access control, and activity areas in hotels.
Hospitals are used in the medical sector to precisely identify patients, reduce pharmaceutical and nursing errors, avoid medical errors and medical disputes, enhance productivity, and save lives.
At Event management RFID wristbands for concerts, sporting events, conferences, and other sizable events are not only a clever and practical ticket but also play a significant role in other aspects.
Management of Entertainment Centers: RFID wristbands are also preferred by recreational facilities like swimming pools, gyms, water parks, amusement parks, and theatres. Because RFID wristbands may significantly increase management effectiveness and job efficiency, close financial gaps, guarantee businesses' economic benefits and implement all-encompassing real-time monitoring and management.
Campus security management: The RFID wristband's location feature can be used to record specific arrival and departure times for students.
Application for Transportation: Since the RFID wristband incorporates a payment feature, it can be used as a bus or metro card right away. It is incredibly practical for transit, and unlike a card, you won't have to worry about losing it.