The D880 Transistor is an NPN transistor manufactured in the TO-220 package. It is designed for audio frequency amplification purposes but it can be used for any general purpose applications that fall under its ratings. For example, it can be used as a switch and can drive a load of up to 3A, with that much output current this transistor is capable to drive motors, high-power transistors, relays, etc. Due to its low saturation voltage, it can also be used at the output of a wide variety of electronic platforms like Arduino and raspberry pi to drive a variety of loads.
D880 Transistor Pinout
Pin 1: Base : Controls the biasing of the transistor, used to turn ON or OFF the transistor.
Pin 2: Collector : Current flows in through collector , normally connected to load.
Pin 3: Emitter : Current Drains out through the emitter , normally connected to ground.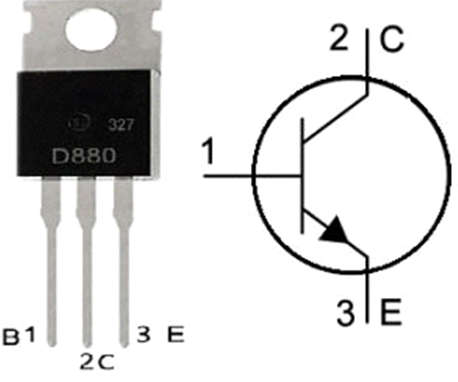 D880 Transistor Features
Package Type: TO-220
Transistor Type: NPN
Max Collector Current(IC): 3A
Max Collector-Emitter Voltage (VCE): 60V
Max Collector-Base Voltage (VCB): 60V
Max Emitter-Base Voltage (VEBO): 7V
Max Collector Dissipation (Pc): 30 Watts
Max Transition Frequency (ft): 3 MHz
Minimum & Maximum DC Current Gain (hFE): 60 – 300
Max Storage & Operating temperature should be: -55 to +150 Centigrade
How to Use D880 Transistor
We can achieve stable performance in a circuit by employing the D880 transistor. It is recommended that you use less than 20% of your total maximum ratings for this. Because the maximum collector current (Cc) is 3A, it cannot drive any load that consumes more than 2.4A. The maximum voltage from collector to emitter terminal is 60V thus do not drive any load above 48V. A suitable heat sink must be used in conjunction with a transistor, and the transistor must be operated at temperatures between -55 and +150 degrees Celsius at all times.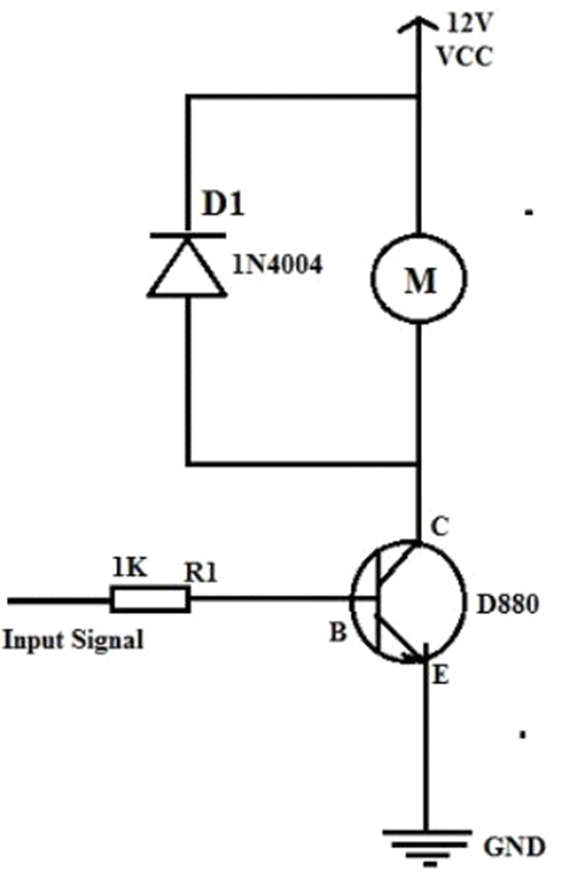 Applications of D880 Transistor
DC-DC converts
Audio circuits
Amplifier circuits
Low voltage, medium current switching devices
Replacement and Equivalent
TIP31A, 2SC1060, 2SC1061, 2SC1173, 2SC1226, 2SC1226A, 2SC1418, 2SC1419, 2SC2236, 2SC2500, 2SC2075, 2SD1134, 2SD1274A, 2SC1985, 2SC1826, 2SC3179, 2SC3851A, 2SC3851, 2SC1986, 2SD1354, 2SD1274, 2SD234, 2SD235, 2SD313, 2SD314, 2SD317, 2SD318, 2SD325, 2SD330, 2SD331, 2SD365, 2SD389, 2SD390, 2SD762, BDT31, BDT31A, (Pin configuration of these equivalent transistor may be different from D880, therefore check pin configuration before replacing in your circuit.)