Thin film resistors are fixed type resistors and are the most common types in the market present. They are characterized by a thin resistive layer on top of a ceramic base.
The naming originates from the different layer thicknesses. The film has a thickness in the order of 0.1 micrometers or smaller.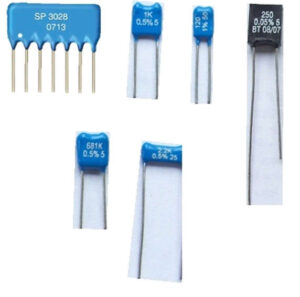 Thin film resistors have a metallic film that is deposited on an insulating substrate in a vacuum only.
The metallic film used is often an alloy of Nickel and Chromium (Nichrome).
Thin film is more accurate, has lower resistance values, narrow tolerance range has a better temperature coefficient, and is more stable.
It, therefore, competes with other technologies that feature high precision, such as wire wound or bul meta foil.
Construction of Thin Film Resistor

Thin film resistors are built on a ceramic base.
The resistive layer is sputtered on top of the ceramic base using the deposition technique.
As fair as deposition techniques go, there are two that are used
The first is thermal deposition under a 'hard' (conventional) vacuum.
The second is through physical vapor deposition (PVD) using a 'softer' Vaccum, i.e. a vacuum that is backfilled with argon to increase the pressure.
Of these, PVD techniques are more widely used, and sputtering is often the PVD method of choice for many manufacturers.
This creates a uniform metallic film of around 0.1micro meter thick.
The material used is commonly an alloy of nickel and chrome called Nichrome.
The layer thickness of the film determines the resistance.
After the metallic layer is deposited, it is usually patterned using photolithography and a subtractive process.
The subtractive process is often used to trim the resistance value as per the intended application.
The detached patterns also help to increase the resistive path within the metallic layer and can help with calibrating the resistance value of the resistor.
As per any resistor manufacturing process, a protective coating, base contacts, and termination sections are also incorporated into the resistor.
Usually, the thin film is produced as a chip or SMD resistor.
Alternatively, the film can be sputtered onto a cylindrical surface with axial leads; the resulting devices are typically called metal film resistors rather than film, but the concept is the same.
Advantages of Thin Film Resistor
Lower tolerances and resistor temperature coefficients.
Lower noise.
Lower parasitic inductance and lower capacitance.
Stable at much higher frequencies.
Compact size.
Disadvantages of Thin Film Resistor
Loss of accuracy at low and high temperatures.
Pulse handling is limited due to the small amount of resistive material present.
Moisture corrosion
Applications of Thin Film Resistor
Thin film resistors are typically used for applications that require high stability, high accuracy, or low noise.
Test and measurement equipment
Monitoring equipment
Medical equipment
Audio applications
Precision controls and instrumentation