A vibration sensor is a device that measures the amount and frequency of vibration in a given system, machine, or piece of equipment. Those measurements can be used to detect imbalances or other issues in the asset and predict future breakdowns.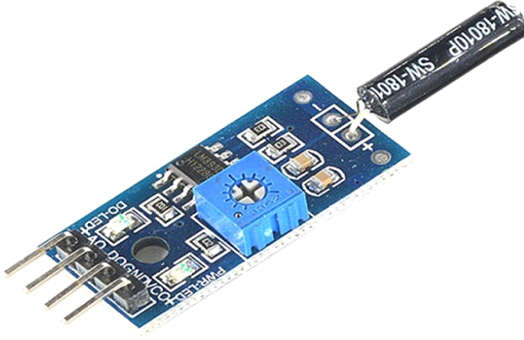 Any business that uses heavy equipment in its daily operations can benefit from monitoring vibrations. The advantages of doing so include the following
Understand causes of damage –
When a piece of equipment starts showing signs of wear, vibration analysis can help with root cause analysis (RCA). By monitoring vibrations within the asset, you can track down the root source of the vibrations and subsequent damage.
Monitor repair needs –
When connected to a CMMS or similar system, you're able to track vibration data in real-time. When you see dangerously high levels of vibration reflected in the data, you'll know that you need to perform repair work on the connected asset.
Keep an overall health check on equipment –
Condition monitoring relies heavily on sensors, including vibration sensors. By monitoring vibration data from key assets, you're able to see how they're performing during specific periods.
Working Principle of Vibration Sensor
A vibration sensor either connects directly to an asset or monitors it wirelessly. Once placed, it will detect vibrations from the asset through various means, depending on the type of sensor (more on that below). Over time, you'll get two types of data from the device.
Frequency –
The first type of data is the frequency, or how often the vibration occurs. By tracking when spikes in vibration happen in a given asset, you'll be able to pinpoint root causes.
Intensity –
The second point of data you'll get is the intensity of the vibration as it occurs. The more vibration you have from a piece of equipment, the higher the intensity measurements will be.
As these two types of data are collected, your CMMS will log them into the asset's history, which can then be used as a point of comparison. As malfunctions occur, they'll reflect in the data, and your system will be able to predict future failures and malfunctions by comparing the current data with past trends.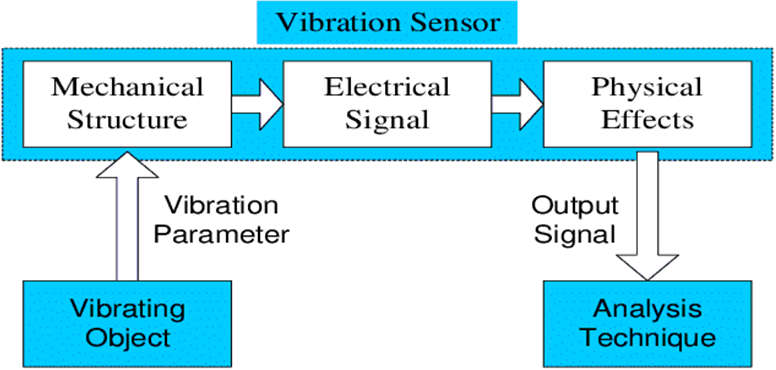 Types of Vibration Sensors
1.Strain Gauges –
Strain gauges are inexpensive on their own, and they're best used on uneven or curved surfaces. However, you do need special equipment to amplify and read the signals produced by the gauge, which can get expensive.
2.Accelerometers –
Accelerometers are commonly used for general vibration analysis. However, they do require supporting electronics to be useful.
3.Eddy-Currents –
Eddy-Current sensors are frequently used in laboratories where fragile equipment is used and measurements need to be precise.
4.Laser Displacement –
Laser displacement sensors tend to work best with stationary objects in clean settings, and they won't interfere with delicate instrumentation. However, they don't tend to fare well in rugged environments, and they are very expensive.
5.Gyroscopes –
Gyroscopes can be used together with accelerometers on rotating equipment, filling in gaps in the data provided. With MEMS technology, they're fairly inexpensive, making them great for low-budget applications.
6.Microphone Sensors –
Microphone sensors can accurately detect changes in vibration frequency, but not absolute values. In addition, they aren't very effective at pinpointing the exact source of vibrations, which means they're typically used in conjunction with accelerometers.
7.Vibration Meters –
A vibration meter is a handheld device used to analyze vibration data and put it into a readable format. They often include accelerometers. Vibration meters are used to perform quick checkups on assets but aren't good for continuous long-term data.
Applications of Vibration Sensor
Vibration sensors are highly effective at monitoring the health of a wide range of machines. 90 percent of machines can benefit from vibration monitoring. Following are a few examples
Water Pumps
Motors, gearboxes, and belts
Fans and compressors
Wind Turbines
Rolling bearings
Vibration sensors help make sure the bearings, motors, and fans in water pumps and condensers operate smoothly, providing advanced warning of potential issues if readings start to get a bit rough.
This is all about vibration sensors. From the above information, finally, we can conclude that vibration is a difficult measurement that includes different parameters. Based on the goals of vibration measurement, measurement technologies have benefits and drawbacks. These sensors are mainly used for measuring, analyzing, displaying, proximity, acceleration, displacement, etc.