The LM4558 is a type of integrated circuit that contains dual high-gain op-amps. This integrated circuit belongs to the LMxx family, which was created by National Semiconductor. The term LM stands for linear monolithic in the LM series. This integrated circuit is an analog component housed in a single Si piece. This Op-Amp is short-circuit protected, and internal frequency compensation ensures stability without the use of external components.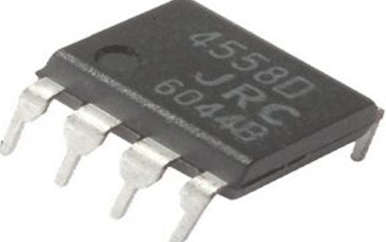 This is a monolithic IC with two op-amps in a single package; however, they function independently and share similar power rails. The two op-amps in this IC have less noise interference between them, making it ideal for use in a variety of applications.
An advanced epitaxial process is used in this case to compensate for and build a dual op-amp internally on a single IC. The NJM741 IC features can be combined to obtain unique performance characteristics by matching and tracking the close parameter of a dual device on a monolithic IC.
A high channel separation allows the use of a double device to provide density in single NJM741op-amp applications. It is especially well suited for use in differential-in, differential-out, and potentiometric amplifiers, as well as wherever phase and gain-matched channels, are required.
LM4558 IC Pin Configuration
The LM4558 dual op-amp pin configuration is shown below. This dual op-amp has 8 pins, and each pin's functionality is shown below. This IC is available in a variety of packages from which the user can choose based on their needs.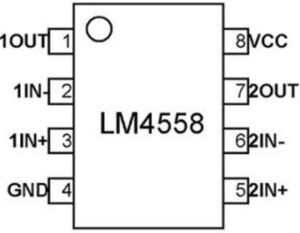 Pin1 (1OUT): This is the o/p pin of the first op-amp.
Pin2 (1IN-): This is an Inverting input of the first op-amp.
Pin3 (1IN+): This is the Non-Inverting i/p of the first op-amp.
Pin4 (GND): This is a ground pin.
Pin5 (2IN+): This is the Non-Inverting i/p of the second op-amp.
Pin6 (2IN-): Inverting input of the second op-amp.
Pin7 (2OUT): This is an o/p of the second operational amplifier.
Pin8 (VCC): This is a power supply pin.
How to use it LM4558?
The LM4558 IC has a wide range of common-mode input voltage and differential voltage. It also has a latch-up-free operation. There is no need to connect external components for frequency compensation. It has built-in frequency compensation to ensure stable operation. These characteristics make this device ideal for amplification processes and voltage follower applications.
The chip's two op-amps can perform two distinct functions at the same time. As previously stated, this dual amplifier IC is well suited for voltage following applications. As a result, we will explain this circuit so that you can understand how it works.
Voltage Follower Circuit Example
A voltage follower is unrelated to amplification. It functions similarly to a buffer in that it outputs the input value exactly as it is. The load connected to the output will draw more current if it has a low resistance. This is where an operational amplifier comes in handy.
Because of their high impedance, the load draws very little current. They do not load down the source connected to the input pin due to their high impedance. Because the inverting input is connected directly to the output pin with no resistor in between, it generates the same input value at the output pin.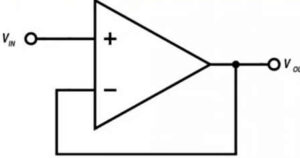 Multi vibrator Circuit Example
It can generate its input signal by connecting a resistor and capacitor network as feedback between the inverting input and output pin. Connect the non-inverting and output terminals with a voltage divider. The circuit will operate as a multi vibrator, producing rectangular pulses.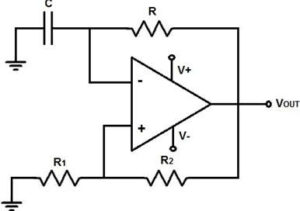 Applications of LM4558 IC Dual Op-Amp
Performs mathematical operations such as integration, differentiation, summation, and so on.
 It has very low distortion and is thus used in sine wave oscillator and phase shift oscillator circuits.
Its applications include signal processing and filtering, peak detectors, multi vibrators, and instrumentation.
It is used in instrument measuring.
It operates different mathematical operations like sum, differentiation, integration, etc.
Used in the industrial-based applications.
Used in amplifiers & oscillators.
Integrated into the translation of logic voltage.
Applicable in peak detectors & voltage comparators.
It provides extremely little distortion & thus used in different circuits like phase shift and sine wave.
It is used for processing the signal, filtering, multi vibrators, peak detectors, instrumentation, etc.
Square wave oscillator.
DVD players.
Audio Mixers.
Voltage Follower.
Lamp Driver.